The Nautical Institute Academy
Membership of the Institute provides added benefits.
Whatever stage in your career you have reached The Nautical Institute is here to help. The Institute offers a number of learning opportunities to members and non-members alike. All are designed to help you take your career to the next level.
These courses are not coordinated by the branch, please visit The NI Academy directly for more information
Connecting Learners and Professionals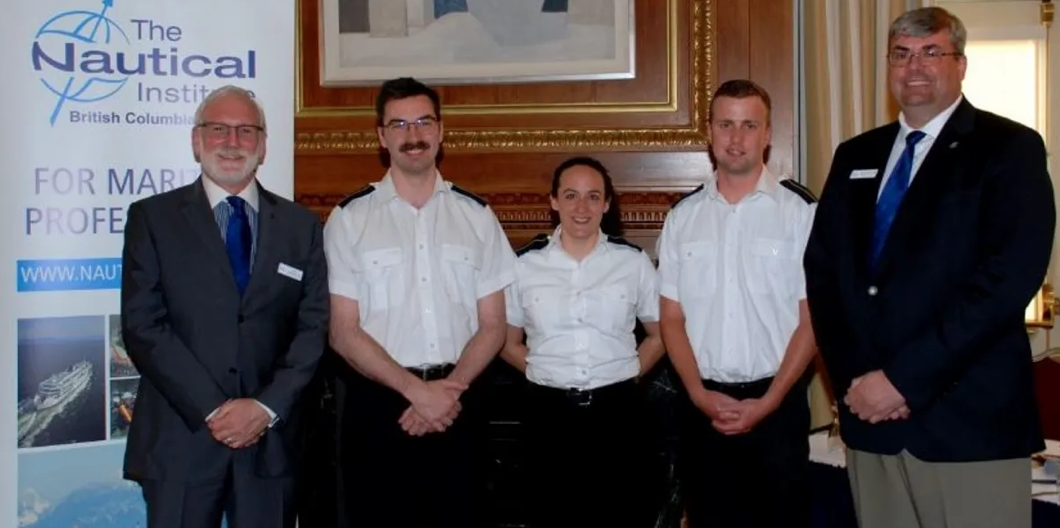 Working to connect with students. Past President Captain Duke Snider, BC Branch Chair Lieutenant-Commander Angus Fedoruk, with three deck-cadets from the BCIT Marine Campus, Zachary Mauriks, Alysha Bacus, and Dylan Shaver, at the BC Branch's "Arctic Shipping Challenges" conference held May 22-24, 2019, in Victoria BC. The BC Branch applied for sponsorship from The TK Foundation on behalf of nautical sciences students, and these three were available between end of classes and beginning of at-sea training. They had the opportunity to interact with many people from industry, and also presented some very good questions to a shipping panel. The BC Branch has also paid for one-year enrollment in The Nautical Institute for each deck cadet.
Connecting Learners with Support
Annually, The Nautical Institute BC Branch reviews applications submitted by learners in the maritime field, coordinated by branch member D. Whitaker. The Vancouver Transportation Foundation's support to learners in transportation fields has aided many students, and our branch is honoured to work to bring students and the foundation together. We hope to build a life-long connection during learning and into career development, aiding younger mariners with advice and mentoring. Here are short profiles of five students in the BCIT marine sciences program.